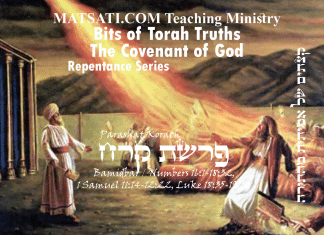 https://youtu.be/t8O3qQiwrjU In this week's Torah portion, we read ב וַיָּקֻמוּ לִפְנֵי מֹשֶׁה וַאֲנָשִׁים מִבְּנֵי-יִשְֹרָאֵל חֲמִשִּׁים וּמָאתָיִם נְשִֹיאֵי עֵדָה קְרִאֵי מוֹעֵד אַנְשֵׁי-שֵׁם: ג וַיִּקָּהֲלוּ עַל-מֹשֶׁה וְעַל-אַהֲרֹן...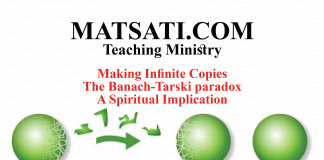 Watch Video here The Banach–Tarski paradox is a mathematical theorem in set-theory.  This theorem states "Given a solid ball in 3‑dimensional space, there exists a...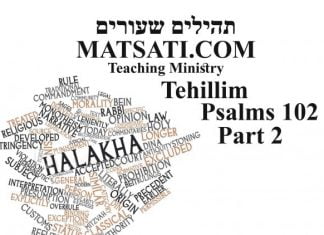 In this week's study from Tehillim / Psalms 102:1-28, the Psalm opens saying, 102:1 Hear my prayer, O Lord! And let my cry... After the death, burial, and bodily resurrection of Yeshua, the disciples became disheartened, and turned back to their previous occupation fishing. While fishing Yeshua stood upon the sea shore, Peter realizing that it was the Lord, jumped i... Recently, while listening to the mid-week Torah study on September 1, 2010, I saw some comments that were made during the study that bring into question the Messianic Movement and the motivation behind those who are part of the Messinaic Move...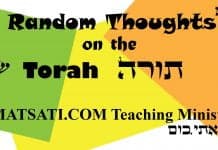 I recently obtained an English translation of The Dead Sea Scrolls from HarperCollins Publishers, 2005, and I found an interesting paragraph in the Damascus... The question occasionally comes up "Does Elohim refer to more than one in the Hebrew Bible?" The root of the question comes from sefer Bereshit / Genesis 1:26 which says Then God said, "Let Us make man in Our image, according to ... Have you ever heard it said that "Our Father" is something Yeshua (Jesus) taught that is new and is only found in the New Testament (NT)? Studying the Scriptures, in reality, referring to the God of Heaven as "Ou...
Bits of Torah Truths, Volume 4, Repentance Series Authored by Dr Duane D Miller PhD List Price: $26.65 6" x 9" (15.24 x 22.86...