In weeks reading from Parashat Acharei Mot (Vayikra / Leviticus 16:1-18:30), the Lord spoke to Moshe following the death of Aaron's two sons saying...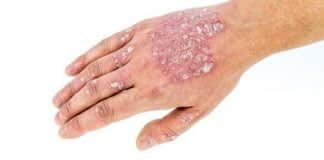 Psychosis is A mental disorder characterized by a disconnection from reality. What this study teaches us is how our perception of reality can effect...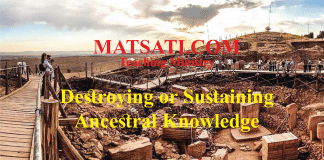 Recently I read an article concerning Bighorn sheep and Moose, the study said that both Bighorn sheep and Moose learn to migrate from one...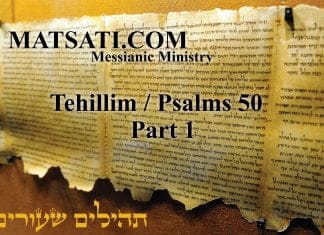 This week's study is from Tehillim / Psalms 50:1-23, David opens the Psalm saying מִזְמוֹר לְאָסָף A Psalm of Asaph.  He continues saying אֵל...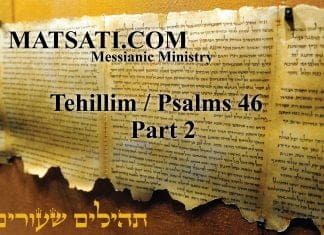 This week's study is from Tehillim / Psalms 46:1-11, David opens the Psalm saying, א לַמְנַצֵּחַ לִבְנֵי-קֹרַח עַל-עֲלָמוֹת שִׁיר: For the director of music....
The question of the resurrection and how many days Yeshua was in the grave between his death on the cross and the resurrection day...
Tehilim / Psalms 25 1 Unto thee, O LORD, do I lift up my soul. 2 O my God, I trust in thee let me not be ashamed, let not mine enemies triumph over me. 3 Yea, let none that wait on thee be ashamed let them be ashamed which transgress wi...
After the death, burial, and bodily resurrection of Yeshua, the disciples became disheartened, and turned back to their previous occupation fishing. While fishing Yeshua stood upon the sea shore, Peter realizing that it was the Lord, jumped i...
Recently, while reading through my Bible about the story of the woman with the issue of blood that Yeshua healed, in Luke 8:34-48, there was something about the Hebrew text that caught my attention. Luke 8:43 says th...
I received Tim Hegg's news letter this morning and at the end of the news letter he included the article titled "The Hope of the Gospel" (Some thoughts from the director), you can read the article, it is located here. While reading this...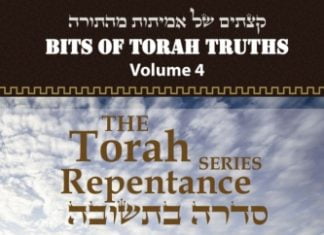 Bits of Torah Truths, Volume 4, Repentance Series Authored by Dr Duane D Miller PhD List Price: $26.65 6" x 9" (15.24 x 22.86...