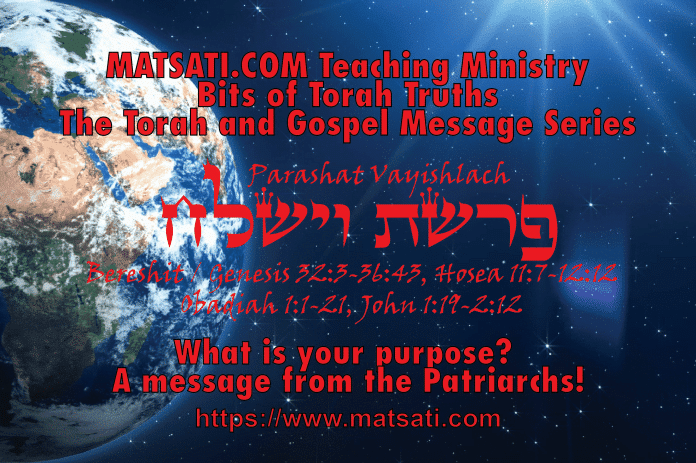 In this week's Torah Portion, we read how Jacob was called to return to the Promised Land, and he sent messengers ahead of him to scout out the Land. The messengers returned and said that Esau his brother is coming along with 400 men. This caused Jacob to fear, and we read that he prayed to God in heaven saying according to Bereshit / Genesis 32:10, י וַיֹּאמֶר יַעֲקֹב אֱלֹהֵי אָבִי אַבְרָהָם וֵאלֹהֵי אָבִי יִצְחָק יְהֹוָה הָאֹמֵר אֵלַי שׁוּב לְאַרְצְךָ וּלְמוֹלַדְתְּךָ וְאֵיטִיבָה עִמָּךְ: 32:10 Jacob said, 'O God of my father Abraham and God of my father Isaac, O Lord, who said to me, 'Return to your country and to your relatives, and I will prosper you,' (NASB) Here Jacob calls upon the God of his Fathers Abraham and Isaac to save him from his brother, Bereshit / Genesis 32:12, יב הַצִּילֵנִי נָא מִיַּד אָחִי מִיַּד עֵשָֹו כִּי-יָרֵא אָנֹכִי אֹתוֹ פֶּן-יָבוֹא וְהִכַּנִי אֵם עַל-בָּנִים: 32:12 'Deliver me, I pray, from the hand of my brother, from the hand of Esau; for I fear him, that he will come and attack me and the mothers with the children. (NASB) According to Rashi, this prayer was the result of Jacob being told that Esau was coming to meet him, and Jacob believed that he was coming as an adversary. This was why Jacob prayed for divine help. Notice He also included the mothers and the children in his prayer suggests that he was also calling to God to protect the future generations. The way Jacob calls upon the Lord, he does so as saying אֱלֹהֵי אָבִי אַבְרָהָם וֵאלֹהֵי אָבִי יִצְחָק it is interesting that he uses both of the words אָבִי (my father) and אַבְרָהָם (Abraham) and similarly when he referred to Isaac (יִצְחָק). This is an important point, as if he said only my fathers, this could have referred to any one of his ancestors, and if he would have only said Abraham, this might have referred to someone else who was named Abraham. Similarly, he said "my brother" and "Esau." But here, he said אֱלֹהֵי אָבִי אַבְרָהָם וֵאלֹהֵי אָבִי יִצְחָק to make it clear who he was referring to, the God of his father Abraham and the God of his father Isaac. We know according to the Scriptures there are three patriarchs (Abraham, Isaac, and Jacob) because this is how God describes Himself only as אֱלֹהֵי אַבְרָהָם אֱלֹהֵי יִצְחָק וֵאלֹהֵי יַעֲקֹב according to Shemot / Exodus 3:15. We do not find prophets such as Moshe or Jonah as having qualified for God calling Himself by their name as he does here for Abraham, Isaac, and Jacob. Note also we do not find the Lord God referring to Himself as the God of David either as he does for Abraham, Isaac, and Jacob. According to Midrash Rabbah on Bereshit, Parashat 82, the rabbis say that the patriarchs are the true מֶרְכָּבָה (chariots) or carriers of the presence and glory of God. They derive this from Ezekiel 1 on Ezekiel's vision of the throne-chariot of God, the four-wheeled vehicle driven by the four chayot (the four living creatures). Jewish biblical commentaries emphasize that the imagery of the מֶרְכָּבָה is not meant to be taken literally; rather the chariot and its accompanying angels are analogies for the various ways that God reveals Himself in this world. The question however is why did the Lord choose to be called by the name of these men as we read in Shemot / Exodus 3:15, טו וַיֹּאמֶר עוֹד אֱלֹהִים אֶל-מֹשֶׁה כֹּה תֹאמַר אֶל-בְּנֵי יִשְֹרָאֵל יְהֹוָה אֱלֹהֵי אֲבֹתֵיכֶם אֱלֹהֵי אַבְרָהָם אֱלֹהֵי יִצְחָק וֵאלֹהֵי יַעֲקֹב שְׁלָחַנִי אֲלֵיכֶם זֶה-שְּׁמִי לְעֹלָם וְזֶה זִכְרִי לְדֹר דֹּר: 3:15 God, furthermore, said to Moses, 'Thus you shall say to the sons of Israel, 'The Lord, the God of your fathers, the God of Abraham, the God of Isaac, and the God of Jacob, has sent me to you.' This is My name forever, and this is My memorial-name to all generations. (NASB) The reason these men were chosen as representing the presence and the glory of God was because of their trusting in the promises of God, and having faith that He would deliver them in their times of need, just as we are reading here in Parashat Vayishlach. Thinking about how significant of a character David was and is in the biblical narrative, there is an interesting Midrash in which David implored the Lord God to become one of the patriarchs, meaning that when the daily עמידה prayer is spoken, one should begin with the words "God of Abraham, God of Isaac, God of Jacob and God of David." We are told in the Midrash that God explained to David that the three patriarchs had attained their stature due to their having successfully passed tests the Lord God had subjected them to. When David heard this he begged to be tested also. Although the Lord warned him not to take such a chance, David insisted and was subjected to the test with BatSheva (2 Samuel 11-12). We all know that he failed this test and according to the Midrash this is why he did not join the ranks of the patriarchs. (Rabbeinu Bahya, Bereshit / Genesis 32:10, Part 3-4)
The Scriptures we are looking at for this week are from Bereshit / Genesis 32:9-21.
ספר בראשית פרק לב
י וַיֹּאמֶר יַעֲקֹב אֱלֹהֵי אָבִי אַבְרָהָם וֵאלֹהֵי אָבִי יִצְחָק יְהֹוָה הָאֹמֵר אֵלַי שׁוּב לְאַרְצְךָ וּלְמוֹלַדְתְּךָ וְאֵיטִיבָה עִמָּךְ: יא קָטֹנְתִּי מִכֹּל הַחֲסָדִים וּמִכָּל-הָאֱמֶת אֲשֶׁר עָשִֹיתָ אֶת-עַבְדֶּךָ כִּי בְמַקְלִי עָבַרְתִּי אֶת-הַיַּרְדֵּן הַזֶּה וְעַתָּה הָיִיתִי לִשְׁנֵי מַחֲנוֹת: יב הַצִּילֵנִי נָא מִיַּד אָחִי מִיַּד עֵשָֹו כִּי-יָרֵא אָנֹכִי אֹתוֹ פֶּן-יָבוֹא וְהִכַּנִי אֵם עַל-בָּנִים: יג וְאַתָּה אָמַרְתָּ הֵיטֵב אֵיטִיב עִמָּךְ וְשַֹמְתִּי אֶת-זַרְעֲךָ כְּחוֹל הַיָּם אֲשֶׁר לֹא-יִסָּפֵר מֵרֹב: [שני] יד וַיָּלֶן שָׁם בַּלַּיְלָה הַהוּא וַיִּקַּח מִן-הַבָּא בְיָדוֹ מִנְחָה לְעֵשָֹו אָחִיו: טו עִזִּים מָאתַיִם וּתְיָשִׁים עֶשְֹרִים רְחֵלִים מָאתַיִם וְאֵילִים עֶשְֹרִים: טז גְּמַלִּים מֵינִיקוֹת וּבְנֵיהֶם שְׁלשִׁים פָּרוֹת אַרְבָּעִים וּפָרִים עֲשָֹרָה אֲתֹנֹת עֶשְֹרִים וַעְיָרִם עֲשָֹרָה: יז וַיִּתֵּן בְּיַד-עֲבָדָיו עֵדֶר עֵדֶר לְבַדּוֹ וַיֹּאמֶר אֶל-עֲבָדָיו עִבְרוּ לְפָנַי וְרֶוַח תָּשִֹימוּ בֵּין עֵדֶר וּבֵין עֵדֶר: יח וַיְצַו אֶת-הָרִאשׁוֹן לֵאמֹר כִּי יִפְגָשְׁךָ עֵשָֹו אָחִי וּשְׁאֵלְךָ לֵאמֹר לְמִי-אַתָּה וְאָנָה תֵלֵךְ וּלְמִי אֵלֶּה לְפָנֶיךָ: יט וְאָמַרְתָּ לְעַבְדְּךָ לְיַעֲקֹב מִנְחָה הִוא שְׁלוּחָה לַאדֹנִי לְעֵשָֹו וְהִנֵּה גַם-הוּא אַחֲרֵינוּ: כ וַיְצַו גַּם אֶת-הַשֵּׁנִי גַּם אֶת-הַשְּׁלִישִׁי גַּם אֶת-כָּל-הַהֹלְכִים אַחֲרֵי הָעֲדָרִים לֵאמֹר כַּדָּבָר הַזֶּה תְּדַבְּרוּן אֶל-עֵשָֹו בְּמֹצַאֲכֶם אֹתוֹ: כא וַאֲמַרְתֶּם גַּם הִנֵּה עַבְדְּךָ יַעֲקֹב אַחֲרֵינוּ כִּי-אָמַר אֲכַפְּרָה פָנָיו בַּמִּנְחָה הַהֹלֶכֶת לְפָנָי וְאַחֲרֵי-כֵן אֶרְאֶה פָנָיו אוּלַי יִשָּׂא פָנָי: כב וַתַּעֲבֹר הַמִּנְחָה עַל-פָּנָיו וְהוּא לָן בַּלַּיְלָה-הַהוּא בַּמַּחֲנֶה:
BERESHIT / GENESIS 32:9-21
32:9 JACOB SAID, 'O GOD OF MY FATHER ABRAHAM AND GOD OF MY FATHER ISAAC, O LORD, WHO SAID TO ME, 'RETURN TO YOUR COUNTRY AND TO YOUR RELATIVES, AND I WILL PROSPER YOU,' 32:10 I AM UNWORTHY OF ALL THE LOVINGKINDNESS AND OF ALL THE FAITHFULNESS WHICH YOU HAVE SHOWN TO YOUR SERVANT; FOR WITH MY STAFF ONLY I CROSSED THIS JORDAN, AND NOW I HAVE BECOME TWO COMPANIES. 32:11 'DELIVER ME, I PRAY, FROM THE HAND OF MY BROTHER, FROM THE HAND OF ESAU; FOR I FEAR HIM, THAT HE WILL COME AND ATTACK ME AND THE MOTHERS WITH THE CHILDREN. 32:12 'FOR YOU SAID, 'I WILL SURELY PROSPER YOU AND MAKE YOUR DESCENDANTS AS THE SAND OF THE SEA, WHICH IS TOO GREAT TO BE NUMBERED.'' 32:13 SO HE SPENT THE NIGHT THERE. THEN HE SELECTED FROM WHAT HE HAD WITH HIM A PRESENT FOR HIS BROTHER ESAU: 32:14 TWO HUNDRED FEMALE GOATS AND TWENTY MALE GOATS, TWO HUNDRED EWES AND TWENTY RAMS, 32:15 THIRTY MILKING CAMELS AND THEIR COLTS, FORTY COWS AND TEN BULLS, TWENTY FEMALE DONKEYS AND TEN MALE DONKEYS. 32:16 HE DELIVERED THEM INTO THE HAND OF HIS SERVANTS, EVERY DROVE BY ITSELF, AND SAID TO HIS SERVANTS, 'PASS ON BEFORE ME, AND PUT A SPACE BETWEEN DROVES.' 32:17 HE COMMANDED THE ONE IN FRONT, SAYING, 'WHEN MY BROTHER ESAU MEETS YOU AND ASKS YOU, SAYING, 'TO WHOM DO YOU BELONG, AND WHERE ARE YOU GOING, AND TO WHOM DO THESE ANIMALS IN FRONT OF YOU BELONG?' 32:18 THEN YOU SHALL SAY, 'THESE BELONG TO YOUR SERVANT JACOB; IT IS A PRESENT SENT TO MY LORD ESAU. AND BEHOLD, HE ALSO IS BEHIND US.'' 32:19 THEN HE COMMANDED ALSO THE SECOND AND THE THIRD, AND ALL THOSE WHO FOLLOWED THE DROVES, SAYING, 'AFTER THIS MANNER YOU SHALL SPEAK TO ESAU WHEN YOU FIND HIM; 32:20 AND YOU SHALL SAY, 'BEHOLD, YOUR SERVANT JACOB ALSO IS BEHIND US.'' FOR HE SAID, 'I WILL APPEASE HIM WITH THE PRESENT THAT GOES BEFORE ME. THEN AFTERWARD I WILL SEE HIS FACE; PERHAPS HE WILL ACCEPT ME.' 32:21 SO THE PRESENT PASSED ON BEFORE HIM, WHILE HE HIMSELF SPENT THAT NIGHT IN THE CAMP. (NASB)
Based upon this text, we see how afraid Jacob was, so much so that he prayed to the Lord God in heaven, the God of his fathers Abraham and Isaac, and then divided up his possessions, sent gifts over to Esau, and then his family, and last of all, he alone remained on the side of the river, as it says "he himself spent that night in the camp." This illustrates how Jacob was deathly afraid of going over to see his brother because of what he had done in years past, deceiving both Esau and Isaac taking the covenant promise and blessing of their father. As we had discussed, the rabbis say that the patriarchs are the true מֶרְכָּבָה (chariots) or carriers of the presence and glory of God. In this instance, Jacob remaining on the side of the river while sending everyone else over, is this a demonstration of the kind of faith a patriarch should have? What exactly was the Lord looking for as being worthy to be called by names of Abraham, Isaac, and Jacob?
While studying the Scriptures, we read in the life of Abraham, and in the Torah, the first time "love" (אָהַבְתָּ) is mentioned in the Torah (note also the first time both love and faith are mentioned in the bible is in relation to Abraham) is in Bereshit / Genesis 22:2 describing Abraham's love and passion for his son Isaac. In this example from Abraham's life, Isaac was the long awaited son of promise, he was the miracle baby, the only child of his wife Sarah. It was God Himself who named Isaac before his birth in anticipation of the "laughter" of Sarah and the hope and faith of Abraham. It was because of this very hope of a son that Abram had his name changed to Abraham. This son, Isaac, represented all of the dreams and aspirations of Abraham, in his desire for a son to carry on his name, and to continue to speak of the one true God in heaven. In light of this, as we read in Bereshit / Genesis 22, we can only imagine the turmoil and suffering Abraham had in his heart when the Lord asked him to sacrifice his son, his one and only beloved son upon the altar. The question then was whether Abraham would obey or not? It is a very similar situation here in God's call on Jacob to return to the Promised Land. He was hesitant due to the dangers, but he trusted in God and ultimately he (Jacob) obeyed the Lord and crossed over and entered the Promised Land as God had commanded. This is the kind of trust that Abraham demonstrated having gone through the motions of the sacrifice of his beloved son, which is universally regarded, in both Christian and Jewish tradition, as Abraham's supreme test of faith and obedience to God. This is what the Akedah represents, the truth of the Gospel, and how the mercy of God overruled the attribute of justice because of the compassion of God and the Lord Himself provided a sacrifice. This is the created purpose of the patriarchs, to show in the midst of life's difficulties, we are to remain faithful to God, no matter what. This kind of faith is what Yeshua was asking of his disciples, when he was teaching according to John chapter 8.
JOHN 8:31-59
8:31 SO JESUS WAS SAYING TO THOSE JEWS WHO HAD BELIEVED HIM, 'IF YOU CONTINUE IN MY WORD, THEN YOU ARE TRULY DISCIPLES OF MINE; 8:32 AND YOU WILL KNOW THE TRUTH, AND THE TRUTH WILL MAKE YOU FREE.' 8:33 THEY ANSWERED HIM, 'WE ARE ABRAHAM'S DESCENDANTS AND HAVE NEVER YET BEEN ENSLAVED TO ANYONE; HOW IS IT THAT YOU SAY, 'YOU WILL BECOME FREE'?' 8:34 JESUS ANSWERED THEM, 'TRULY, TRULY, I SAY TO YOU, EVERYONE WHO COMMITS SIN IS THE SLAVE OF SIN. 8:35 'THE SLAVE DOES NOT REMAIN IN THE HOUSE FOREVER; THE SON DOES REMAIN FOREVER. 8:36 'SO IF THE SON MAKES YOU FREE, YOU WILL BE FREE INDEED. 8:37 'I KNOW THAT YOU ARE ABRAHAM'S DESCENDANTS; YET YOU SEEK TO KILL ME, BECAUSE MY WORD HAS NO PLACE IN YOU. 8:38 'I SPEAK THE THINGS WHICH I HAVE SEEN WITH MY FATHER; THEREFORE YOU ALSO DO THE THINGS WHICH YOU HEARD FROM YOUR FATHER.' 8:39 THEY ANSWERED AND SAID TO HIM, 'ABRAHAM IS OUR FATHER.' JESUS SAID TO THEM, 'IF YOU ARE ABRAHAM'S CHILDREN, DO THE DEEDS OF ABRAHAM. 8:40 'BUT AS IT IS, YOU ARE SEEKING TO KILL ME, A MAN WHO HAS TOLD YOU THE TRUTH, WHICH I HEARD FROM GOD; THIS ABRAHAM DID NOT DO. 8:41 'YOU ARE DOING THE DEEDS OF YOUR FATHER.' THEY SAID TO HIM, 'WE WERE NOT BORN OF FORNICATION; WE HAVE ONE FATHER: GOD.' 8:42 JESUS SAID TO THEM, 'IF GOD WERE YOUR FATHER, YOU WOULD LOVE ME, FOR I PROCEEDED FORTH AND HAVE COME FROM GOD, FOR I HAVE NOT EVEN COME ON MY OWN INITIATIVE, BUT HE SENT ME. 8:43 'WHY DO YOU NOT UNDERSTAND WHAT I AM SAYING? IT IS BECAUSE YOU CANNOT HEAR MY WORD. 8:44 'YOU ARE OF YOUR FATHER THE DEVIL, AND YOU WANT TO DO THE DESIRES OF YOUR FATHER. HE WAS A MURDERER FROM THE BEGINNING, AND DOES NOT STAND IN THE TRUTH BECAUSE THERE IS NO TRUTH IN HIM. WHENEVER HE SPEAKS A LIE, HE SPEAKS FROM HIS OWN NATURE, FOR HE IS A LIAR AND THE FATHER OF LIES. 8:45 'BUT BECAUSE I SPEAK THE TRUTH, YOU DO NOT BELIEVE ME. 8:46 'WHICH ONE OF YOU CONVICTS ME OF SIN? IF I SPEAK TRUTH, WHY DO YOU NOT BELIEVE ME? 8:47 'HE WHO IS OF GOD HEARS THE WORDS OF GOD; FOR THIS REASON YOU DO NOT HEAR THEM, BECAUSE YOU ARE NOT OF GOD.' 8:48 THE JEWS ANSWERED AND SAID TO HIM, 'DO WE NOT SAY RIGHTLY THAT YOU ARE A SAMARITAN AND HAVE A DEMON?' 8:49 JESUS ANSWERED, 'I DO NOT HAVE A DEMON; BUT I HONOR MY FATHER, AND YOU DISHONOR ME. 8:50 'BUT I DO NOT SEEK MY GLORY; THERE IS ONE WHO SEEKS AND JUDGES. 8:51 'TRULY, TRULY, I SAY TO YOU, IF ANYONE KEEPS MY WORD HE WILL NEVER SEE DEATH.' 8:52 THE JEWS SAID TO HIM, 'NOW WE KNOW THAT YOU HAVE A DEMON. ABRAHAM DIED, AND THE PROPHETS ALSO AND YOU SAY, 'IF ANYONE KEEPS MY WORD, HE WILL NEVER TASTE OF DEATH.' 8:53 'SURELY YOU ARE NOT GREATER THAN OUR FATHER ABRAHAM, WHO DIED? THE PROPHETS DIED TOO; WHOM DO YOU MAKE YOURSELF OUT TO BE ' 8:54 JESUS ANSWERED, 'IF I GLORIFY MYSELF, MY GLORY IS NOTHING; IT IS MY FATHER WHO GLORIFIES ME, OF WHOM YOU SAY, 'HE IS OUR GOD'; 8:55 AND YOU HAVE NOT COME TO KNOW HIM, BUT I KNOW HIM; AND IF I SAY THAT I DO NOT KNOW HIM, I WILL BE A LIAR LIKE YOU, BUT I DO KNOW HIM AND KEEP HIS WORD. 8:56 'YOUR FATHER ABRAHAM REJOICED TO SEE MY DAY, AND HE SAW IT AND WAS GLAD.' 8:57 SO THE JEWS SAID TO HIM, 'YOU ARE NOT YET FIFTY YEARS OLD, AND HAVE YOU SEEN ABRAHAM?' 8:58 JESUS SAID TO THEM, 'TRULY, TRULY, I SAY TO YOU, BEFORE ABRAHAM WAS BORN, I AM.' 8:59 THEREFORE THEY PICKED UP STONES TO THROW AT HIM, BUT JESUS HID HIMSELF AND WENT OUT OF THE TEMPLE. (NASB)
Here Yeshua speaks of this concept of continuing in His teachings and of being true disciples and the truth will make you free. Yeshua taught Torah, and he taught about the importance of God's Word and of being faithful and having love for God and one another. All of these are Torah centric principles! The people responded, we are Abraham's descendents and have never been enslaved to anyone. Yeshua corrects their understanding as he is referring to being a slave to sin. These men claimed that Abraham was their father (John 8:39) and Yeshua responded saying if you are indeed Abraham;s children, then do the deeds of Abraham. Yeshua knew what was in their hearts and their desire to kill him, He points this out and the people claim that was not true but that their father is God in heaven. Yeshua goes on saying, 8:43 'Why do you not understand what I am saying? It is because you cannot hear My word. 8:44 'You are of your father the devil, and you want to do the desires of your father. He was a murderer from the beginning, and does not stand in the truth because there is no truth in him. Whenever he speaks a lie, he speaks from his own nature, for he is a liar and the father of lies. (NASB) This entire narrative is very significant in light of what we are studying here today in regards to the patriarchs. The kind of faith that Yeshua is speaking of is to be in line with what is demonstrated from the Scriptures according to the lives of Abraham, Isaac, and Jacob. In the Mishnah Pirke Avot 5:3 the Chazal speak of the reasons Abraham was given the honor of מֶרְכָּבָה (chariots) or carrier of the presence and glory of God because the Lord had given him ten trials:

MISHNAH PIRKEI AVOT 5:3
עֲשָׂרָה נִסְיוֹנוֹת נִתְנַסָּה אַבְרָהָם אָבִינוּ עָלָיו הַשָּׁלוֹם וְעָמַד בְּכֻלָּם, לְהוֹדִיעַ כַּמָּה חִבָּתוֹ שֶׁל אַבְרָהָם אָבִינוּ עָלָיו הַשָּׁלוֹם:
WITH TEN TRIALS WAS ABRAHAM, OUR FATHER (MAY HE REST IN PEACE), TRIED, AND HE WITHSTOOD THEM ALL; TO MAKE KNOWN HOW GREAT WAS THE LOVE OF ABRAHAM, OUR FATHER (PEACE BE UPON HIM).
We note these ten trials based upon the Chazal listing these in the rabbinic literature and by a careful examination of the Scriptures:
The Chazal universally agree that the sacrifice of Isaac was the most difficult test that Abraham had to face in his lifetime. When Yeshua was speaking to the people, he was drawing in all of these Torah centric contexts of the patriarchs explaining to the people and essentially asking them "What is your created purpose?" Studying Yeshua's Words, He is teaching us the message from the patriarchs explaining that we are to have a passion of faith in the God of Israel no matter what! Following after Abraham had offered up the ram, and the smoke ascending to heaven, the Angel of the Lord spoke to Abraham a second time from heaven and said according to Bereshit / Genesis 22:15 Then the angel of the Lord called to Abraham a second time from heaven, 22:16 and said, 'By Myself I have sworn, declares the Lord, because you have done this thing and have not withheld your son, your only son, 22:17 indeed I will greatly bless you, and I will greatly multiply your seed as the stars of the heavens and as the sand which is on the seashore; and your seed shall possess the gate of their enemies. 22:18 'In your seed all the nations of the earth shall be blessed, because you have obeyed My voice.' (NASB) We note what the patriarchs are teaching us, to have faith in the promises of the God who is able to do anything! Jacob demonstrates this for us today according to Parashat Vayishlach. We do not see as much boldness in Jacob as we saw in his grandfather Abraham, but Jacob obeyed the command of the Lord and moved and lived in the way God wanted him to. Because of Abraham's great faith and obedience, God personally vowed to establish His covenant with Abraham and his descendants forever. Today, in Yeshua, God's only son, every man, woman, and child has the opportunity to enter into a covenant relationship with the God of Israel. These are the lessons the patriarchs are teaching us!