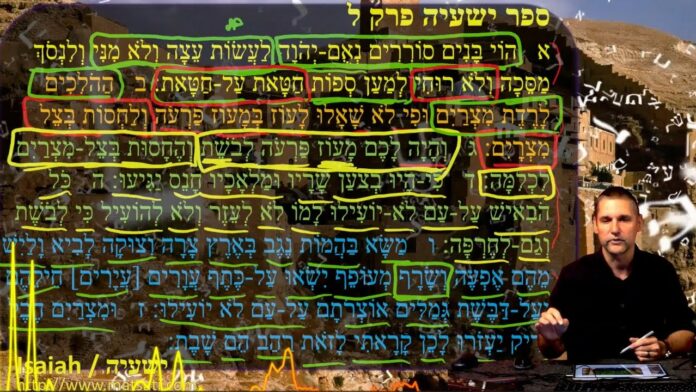 Follow along in the study here: https://www.matsati.com/index.php/the…
Timeline:
0:40 Isaiah 30,1 ספר ישעיה פרק ל:א-ז
4:04 Text comparison on rebellious plans (LXX, TgJ) Isaiah 30,1
ספר ישעיה פרק ל:א-ז 6:29 The Torah states not to return to Egypt, Exodus 13,17 and Deuteronomy 17,16
9:45 Isaiah 30,2 ספר ישעיה פרק ל:ב
11:03 Text comparison on descending to Egypt, Isaiah 30,2 ספר ישעיה פרק ל:ב
16:51 Isaiah 30,3-5 ספר ישעיה פרק ל:ג-ה
20:02 Text comparison finding shelter under Pharaoh, Isaiah 30,3-4 ספר ישעיה פרק ל:ג-ד
21:08 Tanis (Zoan) and Tahpenes cities of Egypt
24:03 Isaiah 30,6-7 ספר ישעיה פרק ל:ו-ז
27:40 Text comparison hoping in wealth and the consequences of trusting in Egypt. Isaiah 30,6-7 ספר ישעיה פרק ל:ו-ז
29:26 Torah references to the fiery serpents, Numbers 21,6 and Deuteronomy 8,15
32:21 Matthew 21,18-22 and habitual sin only God can remove.
34:35 Example of God working a miracle when there seems to be no hope.
Live Stream Begins:
USA: Thursdays 6:30 PM EST
China: Fridays 6:30 AM (GMT+8)
South Korea: Fridays 7:30 AM (GMT+9)
Singapore: Fridays 6:30 AM (GMT+8)
Japan: Fridays 7:30 AM (GMT+9)
India: Fridays 4:00 AM (GMT+5:30)
Philippines: Fridays 7:30 AM (GMT+9)
Watch Live Stream Telegram: https://t.me/MessianicChat
All Isaiah studies: https://www.matsati.com/index.php/isa…
Published books: https://www.matsati.com/index.php/pub…