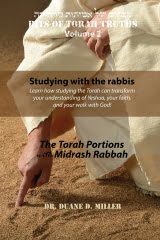 Description:  Are you living a defeated life? Is there something that seems to be missing in your walk with Christ? The answers to these questions and more may be found in God's Torah. Yeshua the Messiah used the Vine-and-the-Branches analogy to illustrate that "Apart from Me you can do nothing." (John 15:5) What does it mean to be "a part of" or to "abide" in Christ? In His comparison of the good versus bad branches, Yeshua stated that "All true branches bear fruit." In addition, He said,
"If you abide in Me, and My words abide in you, ask whatever you wish, and it will be done for you." (John 15:7)
Are these Scriptures working for you? The Apostle Paul said, "For in Him we live and move and have our being." (Acts 17:28) Our faith in the Messiah is not simply an intellectual exercise. As the children of God, we are called to walk in God's ways in His truth, righteousness, holiness, and justice towards one another. "Bits of Torah Truths, Volume 2, Studying with the rabbis" goes through the Torah Portions with an eye for the practical application of the Scriptures and to live a victorious life. In this book we examine the parallels in the teaching style of the rabbis as compared to Yeshua and the disciples. We also look at errors in modern Church theologies and seek to find the truth about the Messiah and our abiding in Him that is consistent with all of Scripture. In this way, you will learn how studying the Torah can transform your understanding of Yeshua, your faith, and your walk with God!
by Dr Duane D. Miller (Author)
Paperback: 464 pages
Publisher: CreateSpace Independent Publishing Platform; 1 edition (March 9, 2015)
Language: English
ISBN-10: 1508802440
ISBN-13: 978-1508802440
Product Dimensions: 6 x 1 x 9 inches
Shipping Weight: 1.7 pounds (View shipping rates and policies)
Buy at Amazon.com or Createspace.com