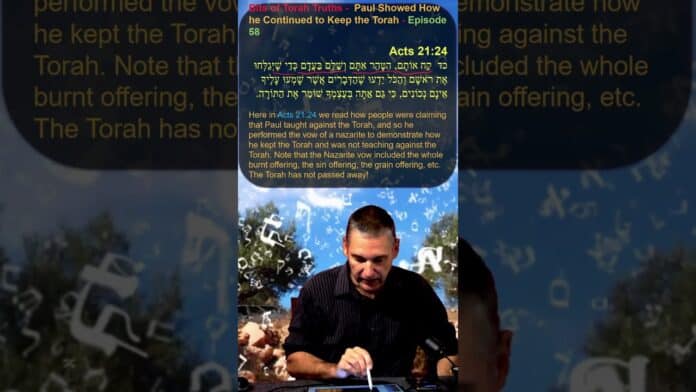 Bits of Torah Truths – Paul Showed How he Continued to Keep the Torah – Episode 58
Acts 21:24
 כד קַח אוֹתָם, הִטָּהֵר אִתָּם וְשַׁלֵּם בַּעֲדָם כְּדֵי שֶׁיְּגַלְּחוּ אֶת רֹאשָׁם וְהַכֹּל יֵדְעוּ שֶׁהַדְּבָרִים אֲשֶׁר שָׁמְעוּ עָלֶיךָ אֵינָם נְכוֹנִים, כִּי גַּם אַתָּה בְּעַצְמְךָ שׁוֹמֵר אֶת הַתּוֹרָה.
Acts 21:24 
24 Them take, and purify thyself with them, and be at charges with them, that they may shave their heads: and all may know that those things, whereof they were informed concerning thee, are nothing; but that thou thyself also walkest orderly, and keepest the law. (KJV)
Here in Acts 21:24 we read how people were claiming that Paul taught against the Torah, and so he performed the vow of a nazarite to demonstrate how he kept the Torah and was not teaching against the Torah. Note that the Nazarite vow included the whole burnt offering, the sin offering, the grain offering, etc. The Torah has not passed away! 
https://www.matsati.com/index.php/category/bits-of-torah-truths/