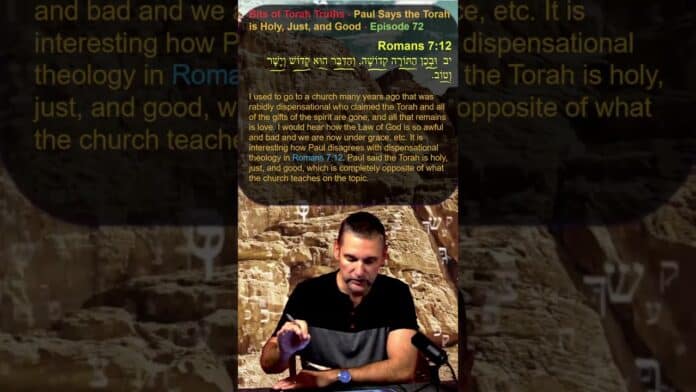 Bits of Torah Truths – Paul Says the Torah is Holy, Just, and Good – Episode 72
Romans 7:12
 יב וּבְכֵן הַתּוֹרָה קְדוֹשָׁה, וְהַדִּבֵּר הוּא קָדוֹשׁ וְיָשָׁר וְטוֹב.
Romans 7:12 
12 Wherefore the law is holy, and the commandment holy, and just, and good. (KJV)
I used to go to a church many years ago that was rabidly dispensational who claimed the Torah and all of the gifts of the spirit are gone, and all that remains is love. I would hear how the Law of God is so awful and bad and we are now under grace, etc. It is interesting how Paul disagrees with dispensational theology in Romans 7:12. Paul said the Torah is holy, just, and good, which is completely opposite of what the church teaches on the topic. 
https://www.matsati.com/index.php/category/bits-of-torah-truths/SHOW LESS