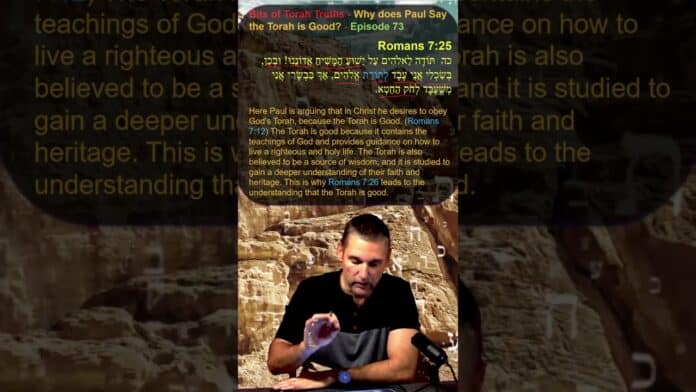 Bits of Torah Truths – Why does Paul Say the Torah is Good? – Episode 73
Romans 7:25
 כה תּוֹדָה לֵאלֹהִים עַל יֵשׁוּעַ הַמָּשִׁיחַ אֲדוֹנֵנוּ! וּבְכֵן, בְּשִׂכְלִי אֲנִי עֶבֶד לְתוֹרַת אֱלֹהִים, אַךְ בִּבְשָׂרִי אֲנִי מְשֻׁעְבָּד לְחֹק הַחֵטְא.
Romans 7:25 
25 I thank God through Jesus Christ our Lord. So then with the mind I myself serve the law of God; but with the flesh the law of sin. (KJV)
Here Paul is arguing that in Christ he desires to obey God's Torah, because the Torah is Good. (Romans 7:12) The Torah is good because it contains the teachings of God and provides guidance on how to live a righteous and holy life. The Torah is also believed to be a source of wisdom, and it is studied to gain a deeper understanding of their faith and heritage. This is why Romans 7:26 leads to the understanding that the Torah is good. 
https://www.matsati.com/index.php/category/bits-of-torah-truths/SHOW LESS