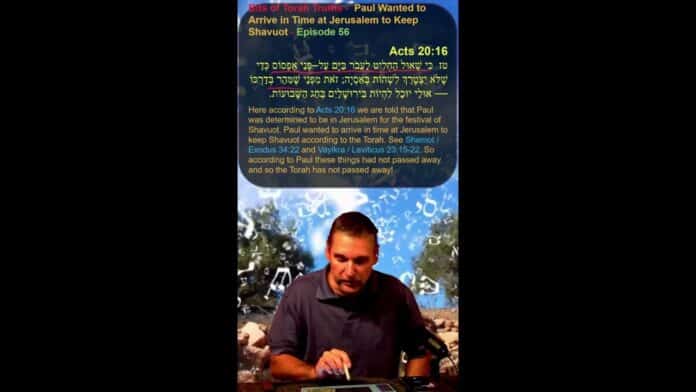 Bits of Torah Truths – Paul Wanted to Arrive in Time at Jerusalem to Keep Shavuot – Episode 56
Acts 20:16
טז כִּי שָׁאוּל הֶחְלִיט לַעֲבֹר בַּיָּם עַל–פְּנֵי אֶפֶסוֹס כְּדֵי שֶׁלֹּא יִצְטָרֵךְ לִשְׁהוֹת בְּאַסְיָה; זֹאת מִפְּנֵי שֶׁמִּהֵר בְּדַרְכּוֹ –– אוּלַי יוּכַל לִהְיוֹת בִּירוּשָׁלַיִם בְּחַג הַשָּׁבוּעוֹת.
Acts 20:16
16 For Paul had determined to sail by Ephesus, because he would not spend the time in Asia: for he hasted, if it were possible for him, to be at Jerusalem the day of Pentecost. (KJV)
Here according to Acts 20:16 we are told that Paul was determined to be in Jerusalem for the festival of Shavuot. Paul wanted to arrive in time at Jerusalem to keep Shavuot according to the Torah. See Shemot / Exodus 34:22 and Vayikra / Leviticus 23:15-22. So according to Paul these things had not passed away and so the Torah has not passed away!