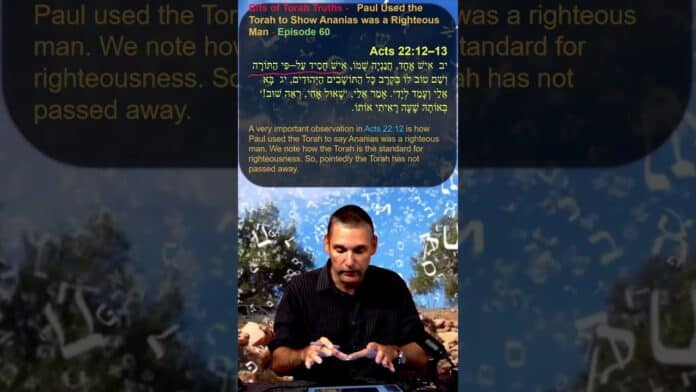 Bits of Torah Truths – Paul Used the Torah to Show Ananias was a Righteous Man – Episode 60
Acts 22:12–13
יב אִישׁ אֶחָד, חֲנַנְיָה שְׁמוֹ, אִישׁ חָסִיד עַל–פִּי הַתּוֹרָה וְשֵׁם טוֹב לוֹ בְּקֶרֶב כָּל הַתּוֹשָׁבִים הַיְּהוּדִים, יג בָּא אֵלַי וְעָמַד לְיָדִי. אָמַר אֵלַי, ׳שָׁאוּל אָחִי, רְאֵה שׁוּב!׳ בְּאוֹתָהּ שָׁעָה רָאִיתִי אוֹתוֹ.
Acts 22:12–13
12 And one Ananias, a devout man according to the law, having a good report of all the Jews which dwelt there, 13 Came unto me, and stood, and said unto me, Brother Saul, receive thy sight. And the same hour I looked up upon him. (KJV)
A very important observation in Acts 22:12 is how Paul used the Torah to say Ananias was a righteous man. We note how the Torah is the standard for righteousness. So, pointedly the Torah has not passed away. 
https://www.matsati.com/index.php/category/bits-of-torah-truths/