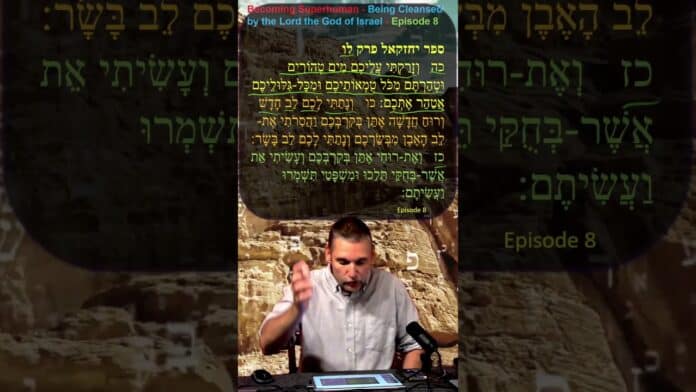 Unlock Your Inner Superhero by Being Cleansed by the Lord the God of Israel – Episode 8
ספר יחזקאל פרק לו
כה וְזָרַקְתִּי עֲלֵיכֶם מַיִם טְהוֹרִים וּטְהַרְתֶּם מִכֹּל טֻמְאוֹתֵיכֶם וּמִכָּל-גִּלּוּלֵיכֶם אֲטַהֵר אֶתְכֶם: כו וְנָתַתִּי לָכֶם לֵב חָדָשׁ וְרוּחַ חֲדָשָׁה אֶתֵּן בְּקִרְבְּכֶם וַהֲסִרֹתִי אֶת-לֵב הָאֶבֶן מִבְּשַֹרְכֶם וְנָתַתִּי לָכֶם לֵב בָּשָֹר: כז וְאֶת-רוּחִי אֶתֵּן בְּקִרְבְּכֶם וְעָשִֹיתִי אֵת אֲשֶׁר-בְּחֻקַּי תֵּלֵכוּ וּמִשְׁפָּטַי תִּשְׁמְרוּ וַעֲשִֹיתֶם:
If we are honest with the Lord God about ourselves, He will work powerfully in our lives! Ezekiel speaks of God's cleansing with waters of purification, He will give us a new heart and a new spirit and remove the heart of stone and put within us a spirit that desires to move, walk, and live the decrees of God! Are you ready for that kind of move in your life?