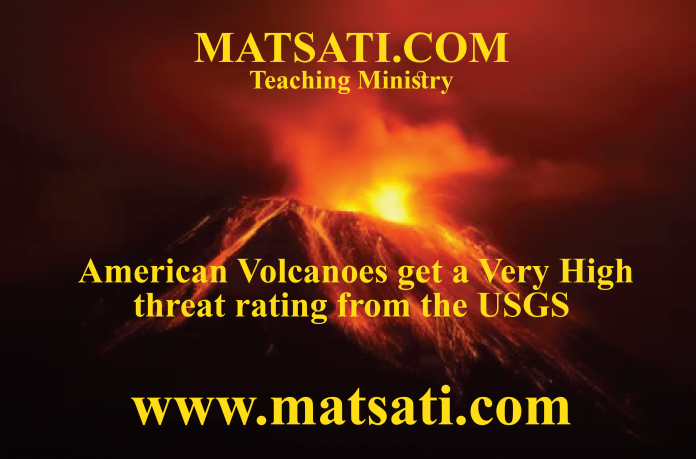 Read an article titled "18 American Volcanoes get a Very High threat rating from the USGS" (https://www.usgs.gov/) where government scientists have classified 18 U.S. volcanoes as having a very high threat rating due to what is happening on the inside of them and in relation to their close proximity to people.  The geographical location of these volcanoes, eleven of the 18 are in Oregon, Washington, and California.  Numerous factors are used to determine the overall threat score.  Surprisingly, there are 161 young and active volcanoes in the nation.  Some of those factors are the type of volcanoes, how explosive they may be, how recently they have been active, how frequently they erupt, whether there is seismic activity, how many people are nearby, and if evacuations have occurred in the past due to eruptions.
List of volcanoes
Alaska's Redoubt
Mount Okmok
Akutan Island
Mount Spurr
Newberry Oregon
Mount Hood Oregon
Three Sisters Oregon
Crater Lake Oregon
Akutan Island
Makushin
Mount Spurr
Augustine Alaska;
Lassen California
Long Valley California;
Mount Baker Washington
Glacier Peak Washington
Mauna Loa Hawaii.
Yellowstone
When it comes to natural disasters, there is some uncertainty involved.  The illustration of volcanoes is a description of how life can be overwhelming at times, especially in today's ever-increasing complexity and high paced world.  The Scriptures say a lot about trusting in the Lord during times of adversity.
Matthew 11:28-30
"Come to me, all you who are weary and burdened, and I will give you rest.  Take my yoke upon you and learn from me, for I am gentle and humble in heart, and you will find rest for your souls.  For my yoke is easy and my burden is light."

John 14:27
Peace I leave with you; my peace I give you. I do not give to you as the world gives. Do not let your hearts be troubled and do not be afraid.

Colossians 3:15
Let the peace of Christ rule in your hearts, since as members of one body you were called to peace. And be thankful.

2 Thessalonians 3:16
Now may the Lord of peace himself give you peace at all times and in every way. The Lord be with all of you.

Tehillim / Psalm 23:4
Even though I walk through the darkest valley, I will fear no evil, for you are with me; your rod and your staff, they comfort me.

Tehillim / Psalm 55:22
Cast your cares on the LORD and he will sustain you; he will never let the righteous be shaken.

Tehillim / Psalm 56:3
When I am afraid, I put my trust in you.

Mishley / Proverbs 12:25
Anxiety weighs down the heart, but a kind word cheers it up.

Mishley / Proverbs 3:5-6
Trust in the LORD with all your heart and lean not on your own understanding;  in all your ways submit to him, and he will make your paths straight.

1 Peter 5:6-8
Humble yourselves, therefore, under God's mighty hand, that he may lift you up in due time.  Cast all your anxiety on him because he cares for you.  Be alert and of sober mind. Your enemy the devil prowls around like a roaring lion looking for someone to devour.

Hebrews 13:5-6
Keep your lives free from the love of money and be content with what you have, because God has said, "Never will I leave you; never will I forsake you."  So we say with confidence, "The Lord is my helper; I will not be afraid. What can mere mortals do to me?"

Matthew 6:25-34
"Therefore I tell you, do not worry about your life, what you will eat or drink; or about your body, what you will wear. Is not life more than food, and the body more than clothes? Look at the birds of the air; they do not sow or reap or store away in barns, and yet your heavenly Father feeds them. Are you not much more valuable than they?  Can anyone of you by worrying add a single hour to your life?  "And why do you worry about clothes? See how the flowers of the field grow. They do not labor or spin.  Yet I tell you that not even Solomon in all his splendor was dressed like one of these.  If that is how God clothes the grass of the field, which is here today and tomorrow is thrown into the fire, will he not much more clothe you-you of little faith?  So do not worry, saying, 'What shall we eat?' or 'What shall we drink?' or 'What shall we wear?'  For the pagans run after all these things, and your heavenly Father knows that you need them.  But seek first his kingdom and his righteousness, and all these things will be given to you as well. Therefore do not worry about tomorrow, for tomorrow will worry about itself. Each day has enough trouble of its own.

Luke 12:24-34
Consider the ravens: They do not sow or reap, they have no storeroom or barn, yet God feeds them. And how much more valuable you are than birds! Who of you by worrying can add a single hour to your life? Since you cannot do this very little thing, why do you worry about the rest?  "Consider how the wildflowers grow. They do not labor or spin. Yet I tell you, not even Solomon in all his splendor was dressed like one of these. If that is how God clothes the grass of the field, which is here today, and tomorrow is thrown into the fire, how much more will he clothe you-you of little faith!  And do not set your heart on what you will eat or drink; do not worry about it. For the pagan world runs after all such things, and your Father knows that you need them.  But seek his kingdom, and these things will be given to you as well. "Do not be afraid, little flock, for your Father has been pleased to give you the kingdom. Sell your possessions and give to the poor. Provide purses for yourselves that will not wear out, a treasure in heaven that will never fail, where no thief comes near and no moth destroys. For where your treasure is, there your heart will be also.

Romans 8:38-39
For I am convinced that neither death nor life, neither angels nor demons, neither the present nor the future, nor any powers, neither height nor depth, nor anything else in all creation, will be able to separate us from the love of God that is in Christ Jesus our Lord.

Philippians 4:6-7
Do not be anxious about anything, but in every situation, by prayer and petition, with thanksgiving, present your requests to God. And the peace of God, which transcends all understanding, will guard your hearts and your minds in Christ Jesus.
The warnings from the USGS on threats due to natural disasters in many ways illustrates the uncertainty we find in our lives over the various external influences that stress us out and cause us to worry.  As believers in the God of Israel, we are told to give all our cares to the Lord, trusting that He will take care of every facet of our lives.  We are to seek first God's kingdom, walk in obedience to His word, have faith that He has everything in control, and that He will work it all out according to His will and purpose.  The Scriptures remind us how the Lord has come through for His people in the past, and how we are given the expectation that He will come through for us now, today and in the future!  We serve a strong and powerful God and there is nothing too hard for him.  We also know that our names are written in His book!  Though a war may be raging around us, we know the Lord is with us.  The Scriptures reveal to us how the Lord comes through for His people, and how He empowers His people with hope, and help.
When the disciples were in the house of God worshiping, praying, and studying Torah, it was at the Temple of God which was the meeting place of God's people during Shavuot (Pentacost).  In Acts 2:46 the disciples gathered in the Temple with one accord to pray, study, learn, and for fellowship.  The buildings surrounding the Temple such as Solomon's colonnade were used as a platform, a gathering place, for the people to study, to learn, and to pray, as one of the study halls of the Temple when the Holy Spirit of God fell upon them.  In power God's Spirit fell upon the disciples.  We are told the whole place was shaken with the divine presence.  These descriptive terms from the book of Acts echo the theophany of God at Sinai (a visible manifestation to man of God) when the Torah was given to Israel.  These things recall the glory of God that later filled the Temple in Jerusalem with His presence when it was dedicated.  Pilgrims and proselytes from all over the world heard these early believers in Yeshua the Messiah speak in different languages.  The people of the land understood the message concerning the wonderful works of God!  We are told tongues of fire appeared and rested upon the disciples empowering them with God's Spirit.  Our mission as believers in the Messiah Yeshua is to "know God and make God and His Messiah known" to all the world.  We do not have to be bummed out, defeated, worry, or be stressed out, or anxious.  As sons and daughters of the Most High, we stand upon the promises that the Lord God Almighty is in control and He is working everything out according to His will for our good. (Romans 8:28).  With the power of God, we are not moved with trials and testing comes!  Just as we hear of the dangers of surrounding us (volcanoes, rumors of wars, etc) we trust in the Lord, no matter what happens, the Lord is with us, and He will fight for us!